Kwei Quartey is a crime fiction writer and retired physician based in Pasadena, California. Quartey was born in Ghana, West Africa, to a Ghanaian father and a black American mother, both of whom were lecturers at the University of Ghana. The Emma Djan investigations has three books: The Missing America; Sleep Well, May Lady; Last Seen in Lapaz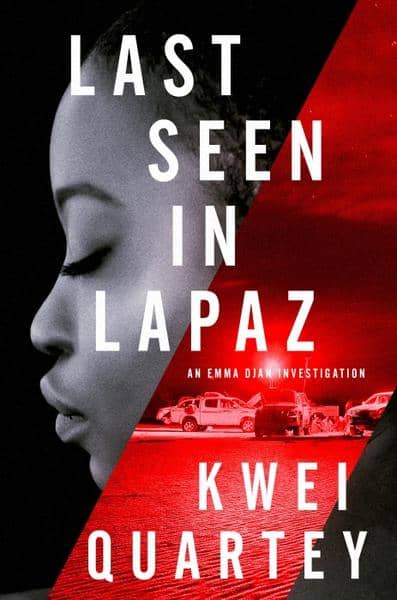 Last Seen in Lapaz (Dieser Artikel erscheint am 7. Februar 2023)
Buch 3 von 3 An Emma Djan Investigation
Kwei Quartey
Kwei Quartey transports readers to Ghana with this riveting third installment in the Shamus Award-winning Private Investigator Emma Djan series.

When Nnamdi Ojukwu's daughter, Ngozi, elopes with her boyfriend, Femi, Nnamdi appeals to Accra detective Emma Djan to investigate Ngozi's whereabouts.
 
Weeks later, Femi is found murdered at his opulent residence in Accra, and Ngozi still has not been found. As Emma digs further, she discovers Femi was part of a network of sex traffickers in Europe and several West African countries. Migrants from Ghana and Nigeria are duped into thinking they are on their way to success and riches in Italy. But once there, they are manipulated into sex work with little chance of escape.
 
As successful as Femi was, he made a lot of enemies, all of whom had possible motives to kill him. The question is, which one of them did it? Not only does Emma have to hunt the killer down; she's in a race against time to find Ngozi—that is, if she's still alive.
ISBN: 978-1641293396 | Sprache: Englisch| Umfang: / Seiten | Verlag: Soho Crime | Erscheinungsdatum: 07.02.2023
Gefällt dir das Buch? Hier kannst du es bestellen:
ab € 25.39 [D] inkl. MwSt.
Rezensionen und Bewertungen
Das Buch schon gelesen? Dann hinterlasse uns doch deinen Eindruck.